Autumn 2016
20-27TH SEPTEMBER 2016
Our autumn 2016 season included fresh new performances to entertain, challenge and inspire you. It included verbatim theatre, beatboxing storytelling, comedy, workshops and much more. Our spine shows were: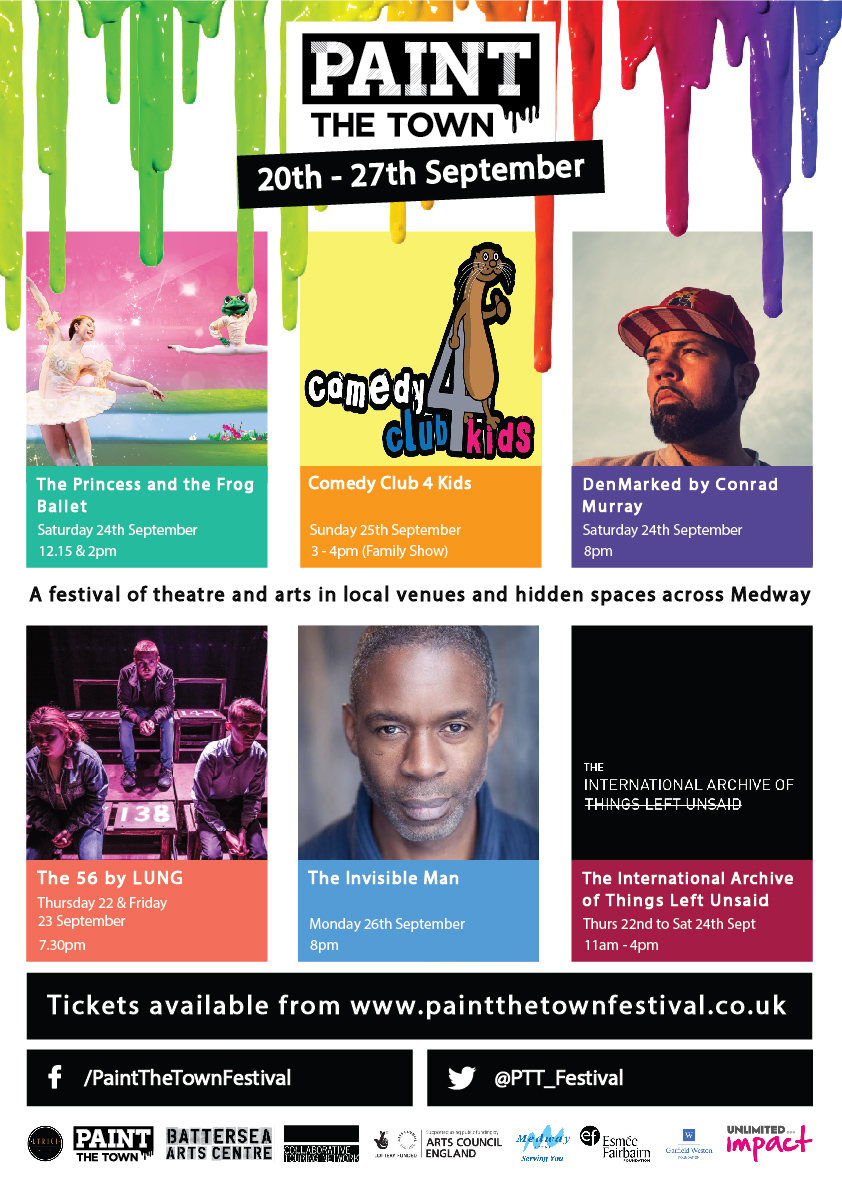 Denmarked by Conrad Murray
Tales from the council estate of dodgy best friends, that rite of passage; your first arrest, dinner with your social worker and the Christmas dad went prison.
An autobiographical performance told through storytelling, singing, rapping and a loop station.
Created by Conrad Murray and developed with Battersea Arts Centre, DenMarked explores the extent by which we are marked by events.

"Two young theatre-makers are mixing it up" The Guardian
"Raw, punchy R'n'B-infused work that adds a significant voice" ★★★ The Stage
"They bring realism, they bring heart, commitment and powerful poetic words" ★★★★ London Theatre
"Extremely inventive" ★★★ British Theatre
"Mature and relevant, with an impressive amount of soul" ★★★★ The Londonist
'Nobody dies in football matches in fires. It doesn't happen'.
At 3.40pm on May 11th 1985, a small fire broke out in the main stand at Valley Parade football ground during the last game of the season. Within four minutes, the wooden structure was ablaze.
Adapted solely from over sixty real-life testimonies, this bold and pertinent piece of documentary theatre pays homage to the supporters who lost their lives in one of the darkest days in British footballing history. On the 31st anniversary of the disaster, 'The 56' examines the solidarity, strength and community in the face of overwhelming tragedy.
The 56 was developed with The Lowry and The Civic in Barnsley. Written by Matt Woodhead and Gemma Wilson.
'The 56 packs raw emotional power' – Sunday Times
'A young and remarkable company' – Independent
The International Archive Of Things Left Unsaid, by Rhiannon Armstrong
The International Archive of Things Left Unsaid is an evolving collection of anonymous testimonies donated by members of the public, which began as a one-to-one performance. The web version was commissioned by Battersea Arts Centre and The Space.
Each testimony is performed verbatim, and includes binaural beat technology to induce calming brainwaves in the listener. Visitors may browse the Public Index, choose a testimony to listen to, and are then invited to contribute their own. A text-only version is available for those who do not use headphones, and anonymity is guaranteed.
"Creates a different kind of approach to most online confessional material, emphasising empathy rather than sensationalism" Lyn Gardner, The Guardian
"Small moments of defiance that are also celebrations" Jane Frances Dunlop, Exeunt
PAINT THE TOWN WAS SUPPORTED IN AUTUMN BY:
Marvellous Murals
Rochester train station
Mid Kent College
Matt Bray
Nucleus Arts
Café Nucleus
Wordsmithery
Priestfield Conference and Banqueting, Priestfield Stadium
Medway Libraries
Medway Council Arts Development Team (A special thank you to Robyn Goldsmith and Deborah Pinder)
Medway Council Sports Development Team
George Vaults
Riverside One Studios
Huguenot Museum
Kent Hospitality, University of Kent at Medway
The Brook Theatre
Black Theatre Live
Theatre Royal Margate
The Printers Chatham Ltd
Creek Creative
Wow Magazine
Medway Messenger
THANK YOU!